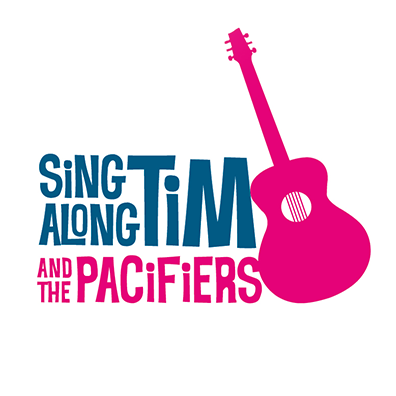 Extraordinarily good music for kids and kids at heart
BIOGRAPHY
Sing Along Tim & The Pacifiers burst onto the scene in 2015 with their first studio album "Folk On Bikes" which featured award winning single "Booger Song" (Stingray Songs From the Heart Best Children's Song, International Songwriting Competing Winner)  and other catchy, lively, intelligent ear worms. A showcase at Folk Music Ontario catapulted them onto the Festival circuit with performances at the Montreal Folk Festival, Mariposa and Hillside. Since then, the band has gone on to perform all over Ontario, and Sing Along Tim has played across Canada and in the UK (Glastonbury Festival).  Career highlight to date, was sharing songs and a stage with Bram Morrison of Sharon, Lois & Bram at Mariposa Folk Fest.
During the pandemic Sing Along Tim and Lori Nancy Kalamanski created "Sing Along Tim's Home-made House Concerts". This thrice weekly live-streamed shows brought arts and crafts, music, games, fun, structure and comfort to young families around the world. It  was featured by  The Social Distancing Festival and Toronto's East End Arts. 
IT'S A BRAND NEW WORLD OF PANTS
Now they are back with an exciting new album of original songs:  "Brand New World of Pants", with, for the first time, a full rhythm section and horns!   It features songs about cats, trees and why we need them, pants that don't fit, and that wonderful feeling the first time it snows. Superb horn arrangements by Tom Richards and Suzy Wilde, an incredible, Juno award winning, rhythm section with Dani Nash on drums and percussion and Jon Maharaj on bass, and fab backing vocals and slide whistle from Lori Nancy KalamanskI.
THE TURNAROUND
"The Turnaround" is an upbeat number, with great lyrics and an educational twist.  Inspired by the sounds of Motown, Stax and Atlantic records, it is guaranteed to get everybody up and dancing .  The Folks at Kid's Place Live, on Sirius FM tell us it is currently "in high rotation".
And here is the video made by the extremely talented film maker, Anthony Grani, inspired by the very best of Sesame Street and The Children's Television Workshop.